The Studio to Screen Strategy
The complete fitness video production service and marketing strategy for fitness professionals and fitness studio owners.
2-10 x your profit with online workouts in 30 days, without live classes or cheap subscription models
Create, film and sell your on demand workouts FAST!
Without tech overwhelm or being a slave to live workouts,
so you can increase profits and take time off losing income.
After helping 100's of fitness businesses launch online with on-demand and live workouts, we discovered that majority of our clients needed just as much help with sales and marketing as filming videos.
So we created The Studio to Screen Strategy – our most complete video production service, designed to help fitness studios and freelance fitness professionals create, film and sell their fitness workouts online. 
By combining professional video production with video marketing we're able to help fitness professionals launch workout programs that stand out in an increasingly crowded market and make 2-10x more profit than subscription models.
The Studio to Screen Strategy is for:
The Studio to Screen Strategy is designed to help you:
The original and complete Studio to Screen Strategy, designed for brand-proud fitness brands and studios that want to create market leading on demand fitness experiences without compromise.
Pre-production planning to help design and refine programs and workouts for online

Your fitness workouts filmed in Full HD or 4K

Photography and graphics
Marketing and promo videos to help with sales

Instructor training to take your presenters from camera confident to production ready
The Studio to Screen online course is designed for fitness professionals who want to create, film and sell on demand programs without investing in professional video production.
This training is the same step-by-step process we use to help our production clients create unique on-demand workouts that sell on autopilot and help to increase profit with less work.
Do you want to offer online workouts but you're stuck or can't get started because you can't find answers you need to your questions?
In your 1-hour consultation with Richard Playfair, the creator of the Studio To Screen Strategy, you will learn the exact steps you need to take right now to design your own action plan to create, film and sell your on-demand workouts in the shortest possible time.
Is your space good for filming your videos?
Would you like to film professional fitness videos at your location but you don't know whether there's enough space?
Are mirrors and windows problems?
And how can you prepare for the filming day so you avoid making mistakes that can jeopardize the quality of your videos?
Download the 14-point Filming Checklist for Studios and Gyms to find out.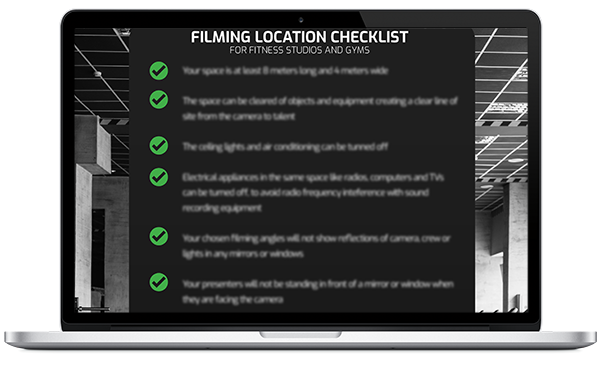 Our royalty-free music partners
We think your workouts deserve the best royalty free music available.
That's why we let you pick the music you want from our trusted music partners.
We want your to confidently launch your programs and workout zero copyright headaches.
Complete the form and we'll get back to you in less than 24 hours to schedule an initial 15-minute introduction call so we can answer your questions.